by Cactus Eater Bear
Cactus:  Paper Doll Veronika on Arktoons has such an interesting and intriguing look to it. What medium do you use for it? Is there a name for this style of illustrating?
Mary MacArthur:  The figures are hinged-limb paper dolls drawn with markers. The backgrounds and clothes are cut paper collage, using all kinds of patterned paper: scrapbook, giftwrap, chiyogami, painted, marbled, ephemera, etc. Both are moved and altered in between frames. I don't know a name for it; honestly I haven't seen anything else like it in static illustration. To coin a name, I think I'd call it "sequential ephemeral collage" because each image ceases to exist so the next can follow.
Cactus:  What is the basic process for sequential ephemeral collage?
Mary MacArthur:  First I make the dolls, clothes, and backgrounds. I'm trying to get better about making the elements ahead of the pages. A key step is using a scanner that works turned upside-down. I arrange each "page" on the scanner lid, scan it, then rearrange for the next page. I edit the scanned images in Arcsoft Photostudio, adjusting contrast and size, and add the lettering.
Cactus:  What inspired you to start working in this style/with this medium? What inspired you to create the comic Paper Doll Veronika?
Mary MacArthur:  I was working on a comic with typical hand-drawn panels and said something about how long it takes, and my brother suggested jokingly that I do it as a sprite comic–made digitally with preexisting figures ripped from video games. (Or original pixel art sprites, as in said brother's comic Adventurers' Guild.)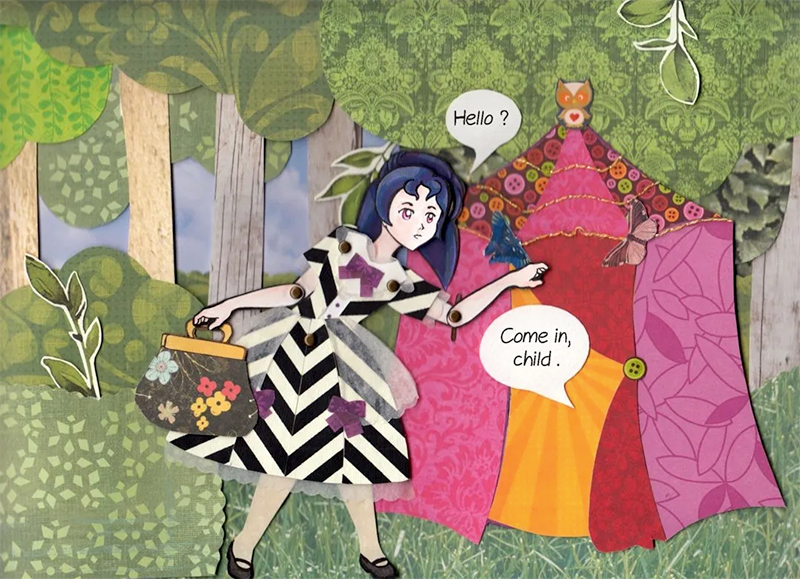 I don't do digital art, so that got me thinking, what would be the
traditional-media equivalent of a sprite comic? Paper dolls! Then I had to come up with a story. Since changing outfits is so important for paper dolls, I thought of a young woman with magical dresses, and it expanded from there.
Cactus:  The colors and patterns you choose are whimsical and varied but complement one another so well. Every frame is balanced to perfection and looks intentional. Do you have some sort of formal training in art and design?
Mary MacArthur:  Yes, I went to the Glassell School of Art in Houston, Texas. As with most fine art schools these days, what dominated there was "installation art" which usually means you pile a bunch of trash in a corner and claim it has some subversive meaning. But I stuck to drawing and painting, and got two very good teachers, Arielle Masson and Patrick Palmer, who concentrated on classic design principles and techniques.
Cactus:  The humor in this comic ranges from bright to dry to sometimes a little dark (in the most pleasant way). Paper Doll Veronika herself seems oddly stoic amid fantastic happenings. Does your art represent you or something about you?
Mary MacArthur:  It does very much reflect my sense of humor, which I mostly get from my father. For example, the character of Homicidal Frog was his invention, added to spice up a children's book.
Cactus:  What surprised you (the most) on your journey of making this comic?
Mary MacArthur:  There's still a long way to go on that journey, so I expect more surprises, but some have been: how lively the paper dolls' poses can be, how backgrounds improved once I stopped trying to be precise and measure everything, and how much emotion is expressed in the angle of a character's back and head.
Cactus:  Discussing your whole portfolio, not just Paper Doll Veronika: What is your background/upbringing and how does that affect your work? Does your Christianity have an over-arching role in your art?
Mary MacArthur:  My mother was an art teacher and she homeschooled us, so that was a tremendous influence and encouragement. Yes, my intention is to do it all for the glory of God and to try to use Beauty to draw people nearer to Him.
Cactus:  What motivates you to create?
Mary MacArthur:  Reading, watching, and playing stories that are engaging and wonderful; it makes me want to go and do likewise.
Cactus:  What advice can you give artists and illustrators who are just starting out in this field and people who are driven to create?
Mary MacArthur:  As regards the actual art-making, draw a ton to overcome the hesitation that one naturally feels, and don't be afraid to erase and start over instead of trying to fix a drawing with bad compositional foundations. As regards trying to make a career of it, have a list of your rates ready, whether by unit or by the hour; you can increase it over the years as you gain experience, but be consistent. Don't be guilted into working "for the exposure" by your own lack of confidence; only work for free if you want to for the project's own sake.
Cactus:  Outside of Arktoons, where can we see more of your artwork and creations?
Mary MacArthur:  Paper Doll Veronika can also be read at paperdollveronika.com; I'd recommend reading it there on desktop and Arktoons on mobile. My art blog is snowflakeclockwork.blogspot.com and I'm on Deviantart–yes, I know it's full of wierdos, but I've been there 17 years and at least they don't censor stuff that's against the Narrative–with the username FireFiriel.
Cactus:  Thank you so much for your time and thank you for sharing your creations with us.
To the readers and the comicbook fans: support what you like or it goes away.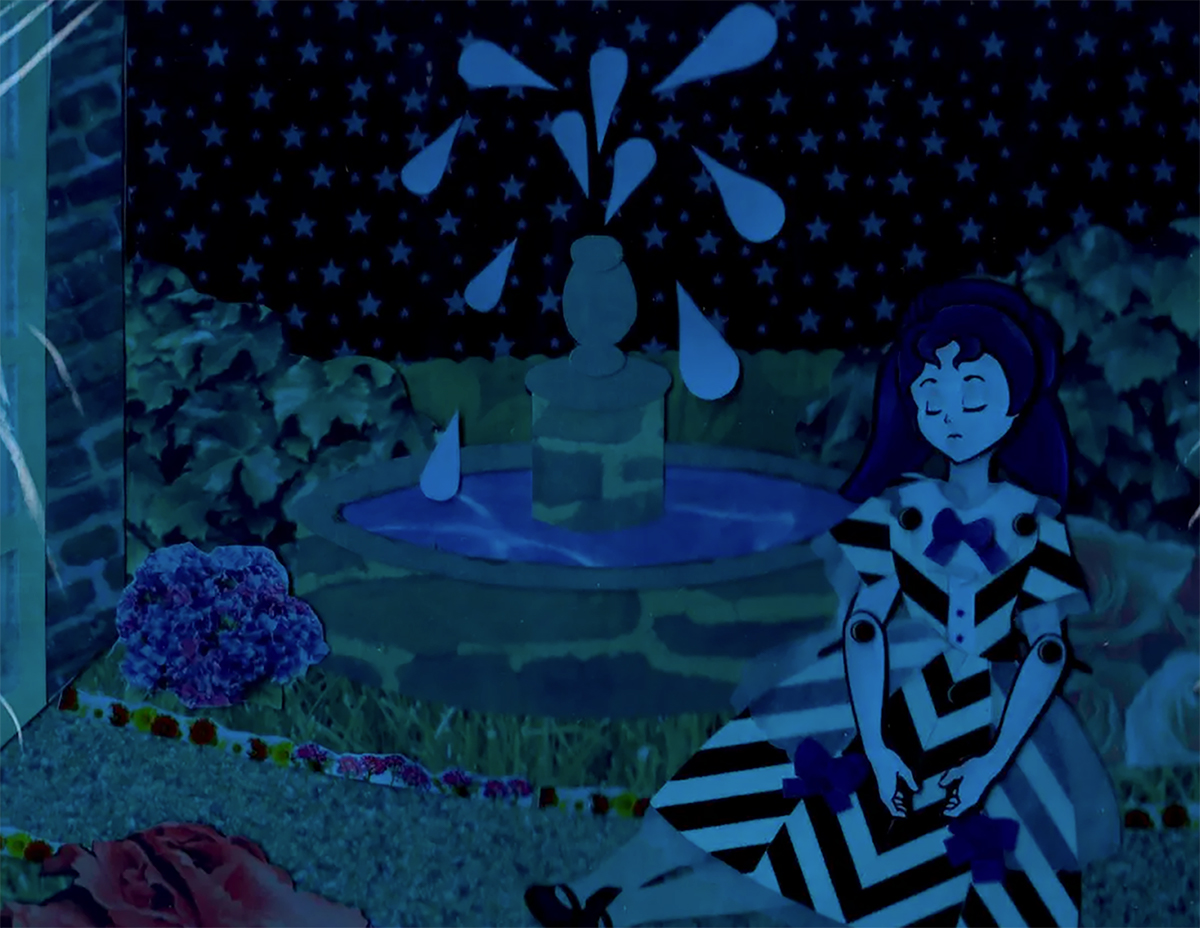 Edit: Link to Adventurers' Guild, Phillip MacArthur's comic.